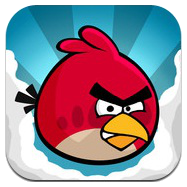 Angry Birds was first created as an iOS video game application (published by Rovio), but has since expanded to other platforms, and even to physical board and card games.
The premise of the game is that a group of birds are attempting to retrieve eggs stolen by evil pigs. In the video game, players use a slingshot to launch birds at pigs located in structures containing the eggs. If the player can destroy all the pigs, they advance to the next level.
The Angry Birds board game ("Knock On Wood") is a dexterity game in which one player builds a structure, and the other player tries to knock it down, using the bird launcher. Mission cards show you which pieces to use to build the pigs' defenses and which birds to use to try to topple the pigs. There are four levels of difficulty including freestyle!
Angry Birds Games
Angry Birds Apps
Angry Birds Products
Prices shown are accurate as of Feb 09, 2017 08:48am CST. Please follow the links for current pricing.


See Also: Angry Birds at Amazon
, Dexterity Games