The Lord Of The Rings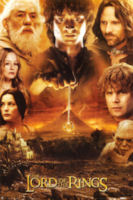 One Ring to rule them all, One Ring to find them,
One Ring to bring them all and in the darkness bind them.
So goes a portion of the verse describing the One Ring of Power, the central artifact of The Lord Of The Rings books by J.R.R. Tolkien, and the films produced by Peter Jackson.
The Lord Of The Rings is a trilogy of novels, written by Tolkien, a high fantasy epic taking place in a fictional world called "Middle Earth", and featuring mythical races such as elves, dwarves, wizards, and hobbits. The Lord Of The Rings is a classic battle between good and evil, and has captivated readers for generations.
A number of board games have been created around The Lord Of The Rings, including a series that focused on each of the films in the series – The Fellowship of the Ring, The Two Towers, and The Return of the King – as well as the earlier The Hobbit. Sadly, many of these games are out of print. The following is what remains available:
Lord Of The Rings Board Games
Lord Of The Rings Board Books & Movies
Prices shown are accurate as of Nov 07, 2015 19:08pm CST. Please follow the links for current pricing.
Lord Of The Rings Links
The Lord Of The Rings Games on eBay


See Also: Fantasy Games, Movie Games