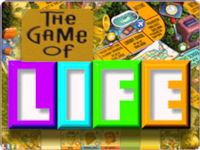 This classic family board game has been loved by generations. Just like your so-called "real life", this game has paydays, marriages, babies, revenge, and chance. Spin the wheel to decide where you go next. Will you go bankrupt, or earn millions in stock and real estate? Play the game and find out!
When the game was conceived, way back in 1860, it was known as "The Checkered Game of Life", played on a modified checkerboard. Player began at infancy, and proceeded through life, with the winner reaching "happy old age" first.
The modern version of The Game Of Life was first produced in 1960, with a spinning wheel replacing the original six-sided top, as well as numerous other changes intended to bring the game up to date. Versions produced since then have continued to be updated for the times, changing some of the cars to minivans and SUVs, for instance.
The Game Of Life has become not only a favorite family game, but something of a coming-of-age experience for some people, preparing kids for the joys and challenges of real life.
Game Of Life Board Games
Prices shown are accurate as of Dec 23, 2017 18:00pm CST. Please follow the links for current pricing.
Game Of Life Links
Life Rules


Detailed rules for the Game Of Life, as reprinted from the actual board game. Learn how to get started, take turns, make your life choices, and make enough money to win!
Possibly Related Information