Fun For Junior Gamers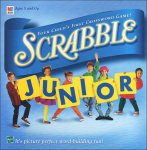 We've recently added a new page that brings together Junior Editions of many of the most popular board games.
Junior Editions are fun versions of classic games, usually with simpler rules, faster gameplay, and special kid-friendly themes. Nearly all the popular adult and family games offer junior editions, including:
Apples To Apples Junior
Clue Jr.
Monopoly Junior
Pictionary Junior
Scene It Jr.
Scrabble Junior
Click Here to see our complete selection of Junior Editions. We also offer a number of other Board Games For Kids.
Note: This is an archive post; it was originally published on December 27, 2005.